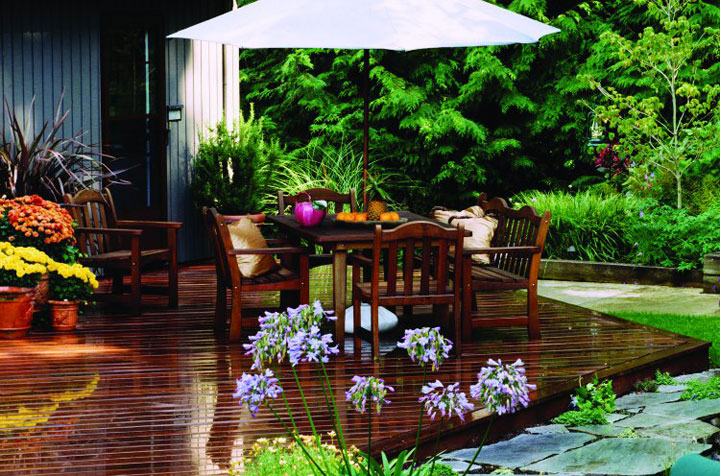 In Part 1 and Part 2 of this series, we've begun to explore some of the many ways that extractives affect wood color and can cause staining — as well as how to avoid it. Now we'll continue our expose of these naturally occurring chemicals with a continuation of the effects of tannins, followed by an explanation of how oxidation affects wood color.
When Tannins and Rain Water Mix
In working with tannin-rich lumber species, you should also know that tannins can leach from boards when subjected to rain water. Of course, "rain water" isn't just water; it includes a variety of impurities, some of which will react with the tannins, causing color transference — sometimes from one board onto another board, and sometimes onto the steel substructure. When the rain water combines with the tannins, the result is caustic; dirt and other elements will combine with it as it drips, creating a dark liquid that will stain anything it touches. You will often see this type of staining beneath slats or siding. The only way to remove the stains is with planing or sanding; sometimes an edge treatment will help force the runoff to drop off of the structure rather than run down it. A moulded drip edge or washers that step off slats can help give the water a place to go.
Regardless of the source, the trouble with tannins comes when these chemicals are dissolved by water and then react to elements found on lumber — whether those elements are fasteners or other items. This understanding makes it obvious why sealing the wood with an oil-based primer or clear coat prior to painting is helpful for blocking water from reacting with the extractives in the wood.
How Oxidation Combines with Extractives
What gives lumber its color? When a board is freshly milled, a combination of extractives and other molecules in the wood combine with oxygen to create certain colors. Teak is a significant example, in that its color is distinctly different when the board is freshly exposed to oxygen. Instead of its golden brown hue, Teak can appear purple, green, or gray when it first emerges from the planer or sander. Part of the reason for Teak's extreme color change has to do with its high levels of silica and oil. These elements will break down as they bond with surrounding oxygen, allowing the wood color to fade into that golden brown hue.
Freshly planed Purpleheart undergoes a similar color change; freshly milled, it appears purple, but over time it deepens to a deep reddish brown. Freshly milled Cherry appears light pink but will eventually darken to a rich pinkish brown.
While those species undergo more extreme color change than other species, all lumber will experience some degree of color change. And that change can be slowed or enhanced, depending on how you treat it. If you wish to speed the color-change process, sunning a board can provide that service. If you'd prefer to slow the color change, applying finish can block the oxygen from interacting with chemicals in the wood.