We're very careful around here with the words we use. Here's an example: you won't catch us referring to even the most amazing, above-grade Ipe decking lumber we sell to be "maintenance free." Why? It may be amazing, but it won't come close to living up to its potential and lasting as long as it could without some maintenance (see Part 1). We don't want any of our customers to fall prey to the disappointment that comes from the expectations-versus-reality disparity; that's why we believe strongly in education — lumber education, that is!
Maybe you've wondered why we don't clean up those decking boards before we ship them out to you. Don't we want to put our best face forward? Of course we do, but we also know that our customers deserve the best lumber possible and at the best price possible. And cleaning the boards up would end up costing more — and without much gain as far as less time and effort required; those boards will just get dirty again prior to installation anyway.
So what can you expect to have to do to help your Ipe (and any other tropical hardwood decking lumber) become the amazing product that it could be?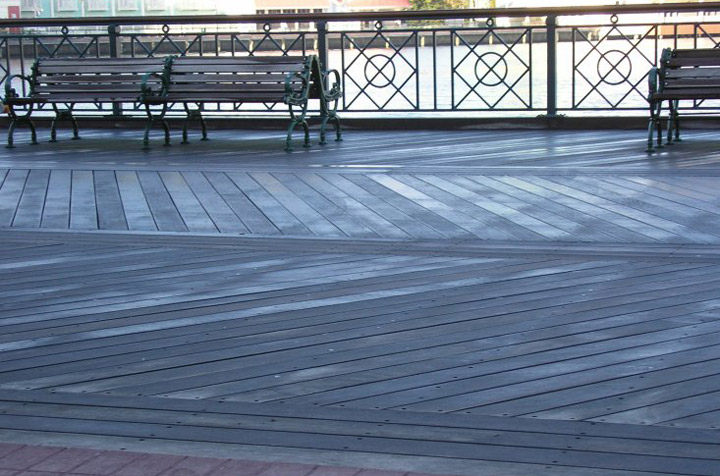 Why Ipe Decking Boards Require Sanding
Like all natural lumber, Ipe has wood grain that's the result of structures originally used to carry nutrients throughout the tree. Since tropical hardwoods are so dense and hard, the grain can be especially rough. Rough spots can be especially prominent when boards have been cut against the grain. Planing, in such a case, will often create tear out that results in rough spots. Because tear out most commonly occurs in areas surrounding knots, that's where you can expect to find rough spots as well. Even quartersawn boards and those with vertical grain will include some rough spots, caused by growth rings that produce raised grain. The occurrence of rough spots will make walking on an Ipe or Cumaru deck quite uncomfortable if you're barefoot.
When To Sand Your Ipe Decking Boards
This situations combines with the presence of dirt, grime, and mineral deposits to require you to sand your decking boards. We recommend doing this after installation, since you don't want to reduce the overall width of the boards. (If you sand one board prior to installation, you'll have to sand each of them!) Once the decking boards have been installed, you can sand as needed and still allow the deck surface to both look and feel even. A simple orbital sander or hand-held belt sander will do the job well, knocking down raised sections in a way that won't be noticeable across the entire deck.
In addition to allowing the boards to rest and sanding them after installation, you will probably benefit from using cleaning and brightening products on them.
Continue reading with Part 3.