If you contact any quality lumber supplier and ask about Marine Grade Plywood, you should expect the response to come in the form of several questions. Why? For one thing, there's not necessarily a consensus among manufacturers about exactly what the designation of "marine grade" actually means. Your needs will vary depending on whether your intended use is on the exterior of a home, as part of a marina, or on a boat.
According to the Engineered Wood Association, the standards for Marine Grade Plywood are actually not much different from other types of exterior-grade plywood, making that term far from as useful as some may initially think it to be. Depending on your intended use, there are many different plywood options that include various kinds of glues, plies, veneers, and preservatives.
But before we discuss those variances, let's start with what all these products have in common.
Marine Grade Plywood, Defined
One constant you can expect from any sheet of plywood labeled as Marine Grade Plywood is that its core will be free of voids. Because voids can easily trap water and promote rotting from the inside, voids cannot be allowed. In addition, any repairs to the core plies will be very few.
An added qualification for the designation of being "marine grade" relates to the glue; all Marine Grade Plywood will utilize WBP glue. "WBP" stands for "Weather and Boil Proof" and means that the glue has been proven to resist delamination after being immersed in boiling water for more than an hour.
As significant as the above-mentioned qualifications are, when you consider that they're really the only ones that unify all plywood that can be categorized as Marine Grade Plywood, you'll realize that there can be quite the variance (along with an accompanying wide range of pricing). Species of both veneer core and face veneer as well as core construction and the specific kind of glue used will all contribute to the makeup of a sheet of plywood and its suitability to various applications.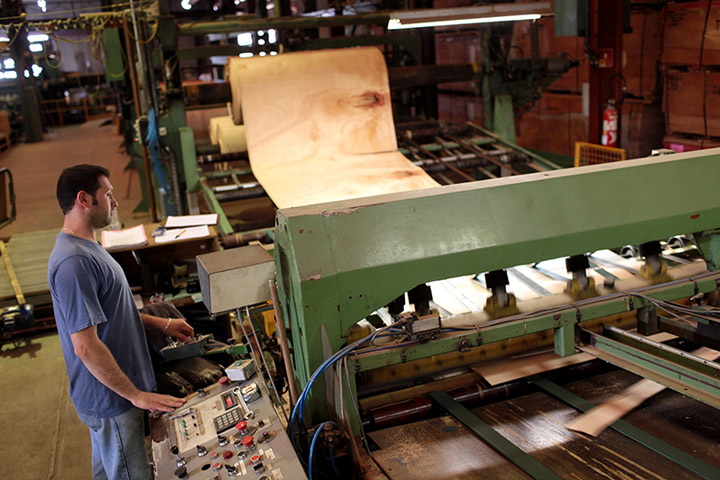 Marine Grade Plywood, Designated
While boat building is certainly not the only use for plywood that is labeled as Marine Grade Plywood, it is definitely a significant one. This kind of use requires optimal appearance, bending ability, and water resistance. Plywood that will be suitable for this kind of application will need to have a consistent face that's able to receive a fiberglass overlay while also having a low weight and a level of water resistance and durability of BS1088 or better.
When it comes to Marine Grade Plywood for other applications, such as exterior structures, the qualifications aren't quite so stringent. Depending on the location of the structure, the plywood won't need to be quite as water-resistant as it would be for a boat building application. We'll look into that more in Part 2.