Both the commercial and the residential markets for tropical hardwood decking are exploding in today's economy! Why? Tropical decking lasts, requires very little maintenance, and provides an attractive addition to any property. J. Gibson McIlvain maintains an inventory of decking lumber that's ideal for building high-end decks, boardwalks, and docks that feature both exceptional durability and exquisite beauty.
Why Not Composite Decking?
Composite decking has many shortcomings, including its questionable weather resistance, less-than-stellar fire safety ratings, propensity to heat buildup, lack of strength, and unpredictable movement. Add to that, the fact that it's not renewable or biodegradable. Since composite decking also lacks the kind of general durability and colorfast quality of natural tropical decking species, composite decking boards are likely to end up in landfills much more quickly, where they'll remain for hundreds, possibly thousands of years.
By contrast, natural lumber is truly green, and it actually does grow on trees! (Okay, technically, it's milled from trees, but you get the idea.) Some of the ways using tropical decking benefits the environment includes its entirely renewable nature and the sustainability of responsible forestry. Biosequestration also makes it beneficial to the environment over the long term.
Contrary to some misinformed environmentalists, buying tropical decking — or any kind of imported lumber or lumber products — actually benefits the rainforests by providing land owners with an incentive for their continued protection and management. Not only is lumber unlike composite decking materials, in that way, but it's also unlike other non-renewable natural resources, such as oil.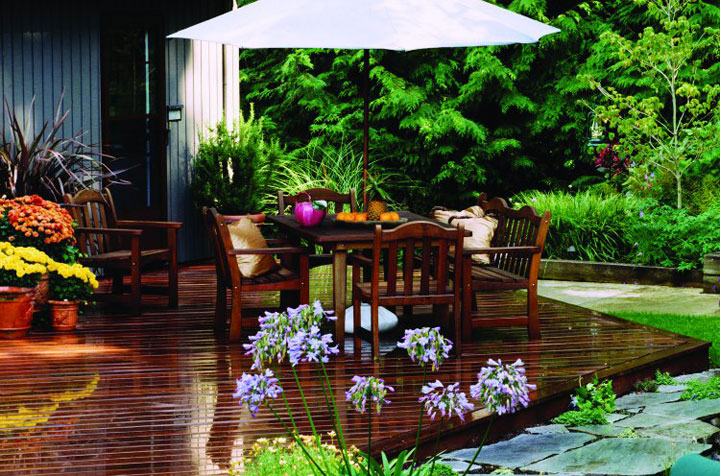 Which Species Should You Choose?
J. Gibson McIlvain keeps a variety of tropical decking options on hand, and we try to keep as much of an inventory of FSC lumber as possible, for those seeking LEEDS certification from the Green Building Council. Some of our most often-requested species include Ipe and Cumaru; however, if you have a special request, feel free to inquire about it.
By far, our most popular tropical decking species, Ipe boasts incredible density, rot resistance, and stability. Its density is actually profound enough to have earned it a class-A fire rating, putting it on par with cement! Once your Ipe deck is installed, its lifespan will probably top 40 years. Its rich reddish brown color can be preserved by periodic application of timber oils. Without any maintenance, it will weather to a silvery patina, over time.
Another popular tropical decking species many consider a comparable (but more cost-effective) alternative to Ipe is Cumaru. When properly dried and allowed the time necessary to come into an equilibrium with the local climate, Cumaru will demonstrate good stability; however, because this species is naturally less stable than Ipe, we stock 5/4 thicknesses that allow the movement to be less.
Like Ipe, Cumaru is a very hard and dense species. Whether you choose a brownish or yellowish variation of this fine species, you'll find that it will naturally resist decay, just like Ipe.
If you'd like to consider additional tropical decking alternatives, please see the options below: