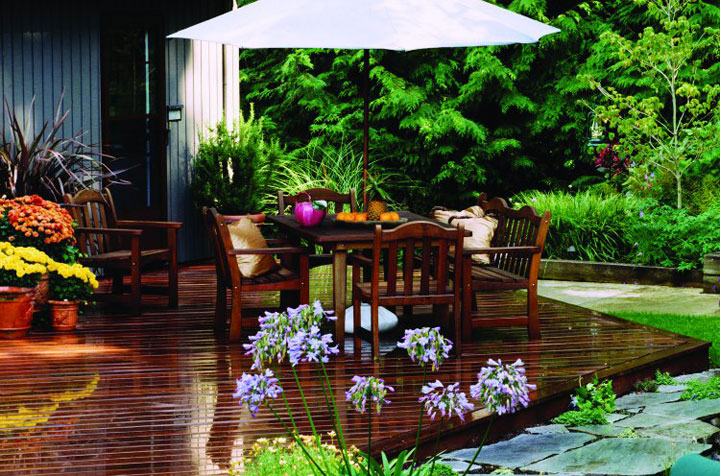 Because Ipe is such an incredibly hard wood and is almost always used as a decking product, it's surfaced on all 4 sides (S4S) in order to prevent splintering and then eased on all 4 edges (E4E) in order to prevent sharp edges. Sometimes, installation intentions require us to route a groove for clip fasteners, but that's about all we do to Ipe before we ship it to your job site. We want our customers to understand that no decking lumber is truly a finished product.
Since Ipe is an exterior product, it's air dried to 18% moisture content before it's milled into deck boards and then prepared for shipment from South America. This percentage provides optimal stability in a decking board, because only when it retains a higher moisture content is a board able to withstand conditions such as rain, sun, and variation in temperature.
In earlier times, all lumber was air dried. However, today's fast-paced world requires a shorter seasoning period. As a result, many exterior decking species are kiln-dried. Even when Ipe is dried in a kiln, it's dried to only 10-18%, rather than the 6-8% North American standard for interior lumber.
This middle-of-the-road approach allows extra moisture to be shed quickly without causing the hardening of cell walls that can lead to brittleness in an exterior setting. When cell walls are hardened, the board becomes resistant to change — a characteristic that would be devastating for a decking board.
Because an exterior environment will naturally promote the absorbing and shedding of moisture, a decking board needs the flexibility to respond to such shifts; otherwise, it will crack, warp, or check. (Rough-sawn Ipe that's kiln-dried to 6-8% moisture content is available, but it's intended for interior use and is not suitable for exterior applications; the decking lumber we typically sell is unsuitable for interior applications, as well.)
When it comes to decking lumber, whether Ipe has been air-dried or kiln-dried isn't as much an issue as the moisture percentage; however, what is always important is the installation method which is used in order to accommodate the specific environment in which your deck is installed.
One environmental factor is the amount of sunlight you anticipate your deck receiving. A significant amount of sunlight creates the shedding of moisture and the potential for warping.
By using a drier board, cautiously planning for proper ventilation, and appropriately spacing boards, you can make sure your deck is as stable as possible. There's no shortcut to making sure boards have the ideal moisture level: you have to give the boards time to acclimate to the job site. Once the boards have achieved equilibrium with their environment, you'll be in a good place to install your deck in a way that promotes air flow and gives enough space for seasonal shifts.