Like the myths about tropical lumber, many myths surround the sustainability of Bamboo, as opposed to Hardwoods. When you look at the cold, hard facts, there are actually plenty of reasons to choose lumber of any kind over Bamboo. We'll take a look at a few of them.
Sustainability
Unlike years gone by, today's forestry science uses research-based methods of regrowing old growth forests and still maintaining the kind of supply that meets current market demands. (Translation: Clear cutting no longer happens, at least not legally.) Maturity for most hardwood species takes 40 to 50 years. In 2007, there were 119% more hardwood trees in the U.S. than in 1953. The lumber supply is not dissipating, at all.
By contrast, Bamboo reaches maturity in only 5 to 7 years; however, only a few of the 1,600 known species of Bamboo are suitable for flooring and other such applications. Many manufacturers are creating products from Bamboo that lacks enough hardness by utilizing non-suitable species or plants that aren't yet mature.
Energy Consumption and Off-Gassing
With lumber, the only energy consumed is whatever is necessary to run a saw blade and other power tools used to sand and plane it. With Bamboo, however, more processing must be done in order to make it usable. Since Bamboo is actually a grass, strips of Bamboo must be compressed and bonded together, using chemical glues and extreme amounts of pressure. Sometimes glue content in Bamboo products can make up a whopping 20% of those products!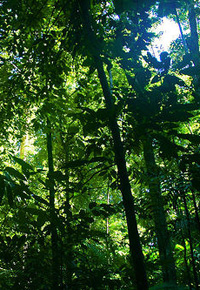 While lumber processing includes no off-gassing, except minimal emissions for carbon dioxide, Bamboo production does. In fact, lower grade products even use formaldehyde resins for the gluing process.
An additional factor in comparing the environmental impact of bamboo as opposed to that of hardwoods is that hardwood trees actually store carbon, throughout their lifetimes, even once they're milled into lumber and used in any number of ways. Bamboo also stores carbon during its growing years; however, it ceases being carbon-neutral due to the energy used to process it into building materials. When compared to domestic hardwoods, shipping bamboo from Southeast Asia adds extra hydrocarbons to earth's atmosphere.
Lifespan and Usefulness
While just about any part of a log can be used for lumber or other products, even the most efficient manufacturing process can use only 65% of bamboo. (Some uses are closer to 35%.) While finished lumber products can later be repurposed or used as fuel, most bamboo is wasted. Bamboo flooring lasts only about three to five decades, and after that, it will likely remain in a landfill indefinitely, due to the high content of glue. By contrast, a typical hardwood floor can last more than a century, with periodic refinishing. Even once lumber has outlived its usefulness, it will not be a burden on the environment; it will naturally decompose back into the soil.
You can also download a PDF chart that displays these comparisons, here.