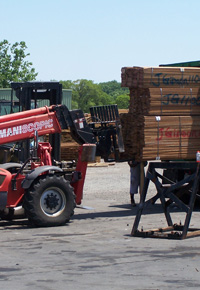 The uniqueness of wide plank flooring certainly needs to be taken into consideration during the planning stages as you select species and value engineer the design in a way that offers your client the best bang for their buck. (You can read more about that in Part 1.) Understanding the movement issues that can come into play when dealing with wide plank flooring is key to successfully executing this type of specialty wood floor. (In Part 2 we discussed some ways you can allow for the higher degree of movement.)
Sometimes, though, the customer requires the highest degree of perfection. At times, meeting such lofty expectations is absolutely impossible. Other times, though, it can be achieved at the right price.
Avoiding Gaps in Wide Plank Flooring
Many customers prefer to see no gaps between boards, even in wide plank flooring. Since the wider boards require more room to move than typical floor boards, gap-free wide plank flooring can be difficult to achieve. Typical tongue and groove patterns provide an undercut shoulder where the plank can be nailed to the sub floor, acting to anchor one side of the board, pushing movement to the other side.
For those who don't wish to see any gaps, you can install the floor as a floating floor that will expand and contract as a single unit. With a floating floor, the expansion gap will be along the edge of the room and can be hidden with shoe moulding. You need to realize, though, that a floating floor can become problematic. Sometimes boards move in different directions or in different amounts, causing buckling and unevenness.
Ideal Environments for Wide Plank Flooring
Ideally, your client could install a humidity control system that's specific to the area in which the wide plank flooring is installed. While expensive, this solution helps protect the initial investment in wide plank flooring. Especially if the room is large, such a protective measure can be helpful.
These types of systems are commonly installed in laboratories in which conditions must remain stable. While wide plank flooring certainly isn't nearly as volatile as certain chemical combinations, the same climate control systems utilized in such environments will help the flooring avoid almost any movement.
Cost Considerations for Wide Plank Flooring
With all these considerations, you probably understand why wide plank flooring is virtually nonexistent except in the most prestigious homes. Nonetheless, the popularity of this trend continues to grow. With the right hardwood lumber supplier who can help you understand species considerations, plan for movement, and prepare for the unique installation needs of wide plank flooring, you can offer your wide plank flooring installation services to customers with confidence.