To recap from the first installment in this series, three important steps in creating quality millwork are (1) selecting the right species, (2) choosing or creating the moulding profile, and (3) employing the right equipment for the job. Once those initial steps have been taken, the real work begins – the kind of stuff that we think sets J. Gibson McIlvain apart from the competition.
Premium lumber and top-notch equipment are certainly necessary as starting points, but they are far from sufficient; without proper execution, the surface can be completely ruined, despite the quality of lumber used. Quality cuts require the coordination of many details, from feed rate to board support and constantly sharpened blades.
Imagine the sound of an orchestra directed by a master conductor who knows the music well and carefully directs each section with his careful attention and expertise: Like beautiful music, beautiful woodwork requires the coordination of many, led by a true master.
Counting Those Pesky Knife Marks
Often intended for use in highly visible areas, millwork can be absolutely ruined when tool marks create unsightly lines and ripples that interrupt the visual flow created by the natural grain of the wood. The industry standard requirements provided by the AWI (Architectural Woodwork Institute) for certification seem sub-par to our way of thinking. Allowing 21-22 knife marks per inch is simply not acceptable here at J. Gibson McIlvain. We consider each of those parallel markings to be a sign of weakness, a flaw in workmanship that should have been avoided.
Most planers will contribute to approximately 13-15 knife marks per inch when the board is pulled through the cutters at the standard feed rate. While the board feels smooth and may even appear to be perfect, once finish is applied to it, each knife mark will stand out. Once the millwork is installed and sunshine hits those knife marks, they will become even more distracting to the eye.
Having Our Work Cut Out for Us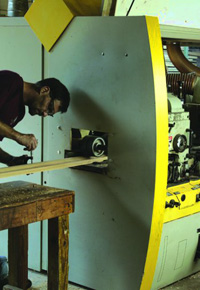 Essentially, we reset each machine and set it up according to manufacturer standards. This process takes time and attentiveness. Once we've finished that task, we run test boards and then make several extremely subtle changes. Perhaps we'll have to adjust the bevel angle or height of the tracer. The combined effect mimics the passion of an artist along with the precision of a scientist — and a little bit of luck thrown in for good measure.
The only result with which we're content is a silky smooth board without a single knife mark to count. The glow of that perfectly milled board with no unsightly interruptions to mar the surface is truly a thing of beauty and worth every little adjustment we carefully make.
To learn more about the millwork process here at J. Gibson McIlvain, we invite you to check out our next installment in this series of articles or — better yet — come visit us in person at our headquarters in White Marsh, Maryland!