What makes Brazilian Redwood a viable alternative to Ipe?
If you find its official name hard to pronounce, Massaranduba is also known as Bulletwood or Brazilian Redwood. (It's pronounced ma-sa-ran-doo-bah.) Growing prolifically throughout both Central and South America, the Bulletwood tree grows quite large, reaching heights of 100 to 150 feet. The tree also has a wide trunk diameter, typically between 24 and 48 inches but sometimes as wide as 6 feet. Trees are usually swollen at their base with straight, clear trunks to at least 60 feet, offering high straight grain yields and low levels of waste. Between its abundance, size, and straightness, this tree offers readily available exotic hardwood lumber at relatively affordable prices.
The reddish brown heartwood is somewhat darker than the typical exotic hardwood, sometimes being described as a dull plum red and resembling the color of raw beef. At the same time, the distinction between it and the pale brown sapwood is not extreme at all. This strong, hard wood has earned its name "Bulletwood," and yet machining causes only moderate blunting of cutting edges; however, some varieties may require special tools. This wood also boasts high crushing strength – as well as great bending strength- when air-dried to 12% moisture content, making its strength superior to Maple and to Teak. Bulletwood finishes well, polishing to a high shine valued by many exotic hardwoods customers.
Like any species used for exterior applications such as decking, Bulletwood is highly weather and insect resistant. The deep red coloring makes it attractive and can be maintained with regular treatments that also help control wood movement; without such maintenance, you can expect the wood to silver with exposure to the elements. The fine, uniform texture, along with the generally straight grain, add to the appeal.
On the downside, Bulletwood can lack the stability of more expensive decking species, such as Ipe. The installation locale may make this species a poor choice, depending on geography and climate. If sudden shifts of moisture level or temperature are common, then cracking or splitting may become an issue. Warping and checking can be kept at bay with frequent finishing and oiling.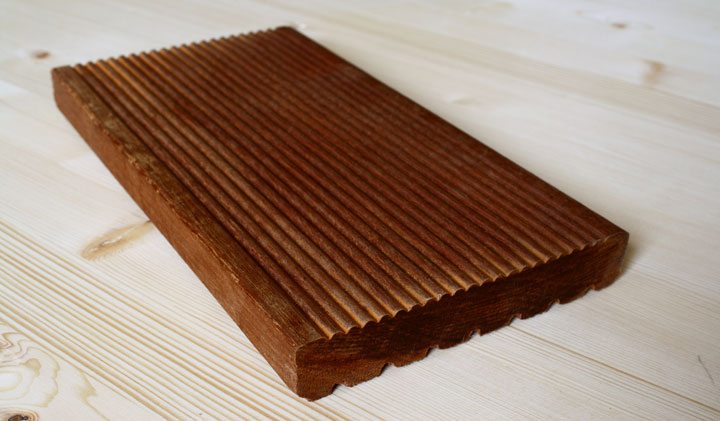 In the right climate, Bulletwood can be a legitimate alternative to pricier exotic hardwood decking species, such as Ipe. Even still, Ipe offers the best in weather resistance, stability, and longevity, and no other species will perform at quite the same level.
If you or your customer simply can't spend what it takes to build an Ipe deck, then there's no need to go all the way to a softwood species such as Redwoods. For starters, Bulletwood is 7.5 times as hard as Redwood and twice as strong. With a lifespan of 20 years with low maintenance, Bulletwood is definitely an option that will last a while without restaining or replacing boards. Its straight grain and dark coloring also make it clearly identifiable with the other high-profile exotic hardwoods.
For help in determining whether Massaranduba is right for your next decking project, contact our experienced decking lumber specialists today by calling toll free (800) 638-9100.
Ipe Alternatives
While no wood species will have exactly the same set of characteristics that makes Ipe such an ideal wood, certain species may offer comparable strengths, making them possible Ipe-substitutes depending on your particular project and environment. Learn about each Ipe alternative below: