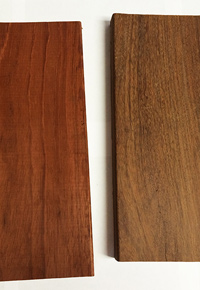 If you're looking at the pricing and availability issues surrounding Ipe and wondering if there's another species that's comparable, Jatoba may well be a good choice for your next deck. In Part 1 we considered the issues of hardness and stiffness and discovered that even though Ipe technically seems preferable to Jatoba, practically they're both more than you really need.
How Heavy Is It?
Lumber weight is measured in pounds per foot, and Ipe weighs 62, whereas Jatoba weighs only 57. If you're thinking that those number means Ipe wins, yet again you may be wrong. You need to carefully consider whether it's really in your (or your customer's) best interest to order lumber that weighs more.
Unlike most characteristics of lumber, weight really doesn't make a major difference once your deck has been installed — as long as it has been taken into account during the design phase. As we discussed in Part 1, most decks are actually overbuilt, so this issue is more theoretical than anything. When weight really matters is before construction and even before your decking lumber arrives on your job site: It makes a difference in the shipping and delivery phase.
First, when it comes to shipping, prices are determined largely based in weight. The 5-pounds-per-board-foot difference between Ipe and Jatoba can easily translate into a huge price difference, when we're talking about 1,000 square feet or more. If your job site is inaccessible by truck, those extra 5 pounds can make a huge difference if you have to move the boards by hand.
How Stable Is It?
Wood movement is a huge issue, particularly when it comes to decking. Any decent builder knows to build with wood movement in mind, realizing that any lumber species will move more significantly tangentially (parallel to growth rings) than radially (perpendicular to growth rings). The disparity between the percentages of tangential and radial movement in any given species reveals its level stability. Ipe has a 1.1 ratio of tangential-to-radial movement (8% vs. 7%), making it nearly isotropic. By contrast, Jatoba has a 1.9 ratio (7.1% vs. 3.8%).
Even though Ipe's ratios look great on paper, there's another aspect of stability to consider: Moisture content on various faces of a board can make a big difference. When exposed to the elements, Ipe's high density can combine with its moisture retention and lead to cupping. Jatoba, however, resists such cupping because of its lower density. Essentially, the greater amount of space between the cells helps one side of the board respond with elasticity when another side needs to move differently.
At the end of the day, both Ipe and Jatoba are fabulous choices for decking. The most significant factor in determining the stability and longevity of your deck will likely be the expertise used in its installation. As long as proper spacing and ventilation are considered, you'll find that your deck will serve you quite well.