In part 1, we considered hardness and stiffness and determined that while the numbers favor Ipe, in practical use, both are more than sufficient. As we continue to compare Ipe, the classic favorite decking species, with Jatoba, a relative newbie to the world of decking, we'll look next at weight and stability.
How Much Does It Weigh?
If you're a wrestler or on a diet, extra weight can be a problem. But what about decking wood? In pounds-per-cubic-foot, Ipe weighs in at 62, while Jatoba comes up 57. Does it matter? If it does, why?
Well, once your deck has been installed, it really won't make much of a difference, as long as the loads were taken into account as the deck was designed. During construction, weight needs to be considered, but it's especially significant when it comes to having your order shipped. The mere 5-pound difference can easily add up when you're building a deck that's 1,000 square feet! For a building site that's inaccessible by delivery truck, you'll feel that weight difference when you have to move it all by hand.
So, if anything, Jatoba wins this contest, simply because it will be easier (and less expensive) to get to the job site.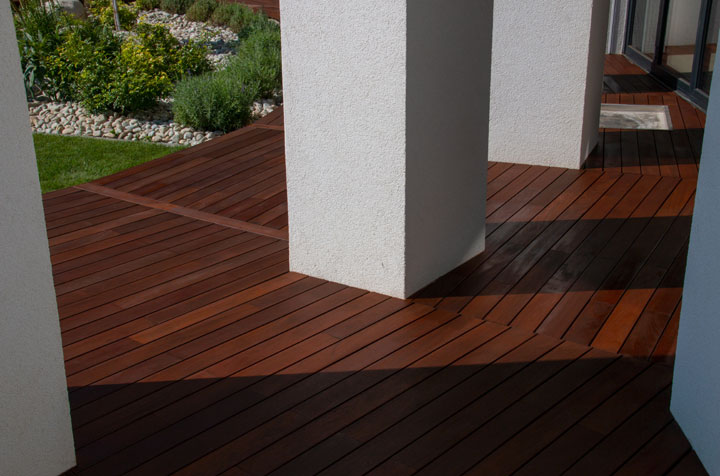 How Stable Is It?
Whether you're talking about emotions or decking wood, stability is always a good thing! While organic materials like wood do move and change, at least wood moves in predictable ways. While you can't stop this natural process, you can learn about it and work with it.
Since wood is anisotropic, it doesn't move in all directions equally. Tangential movement — movement parallel to the growth rings — is much more significant than radial movement, which is movement perpendicular to the rings. Ipe's tangential movement is 8%, while its radial movement is 7%, giving it a ratio of 1.1. By contrast, Jatoba's tangential-to-radial-movement ratio is 1.9 (7.1% tangential to 3.8% radial).
Ipe's nearly equal movement in all directions makes it nearly isotropic. Which seems like a good thing. However, those numbers fail to take into account the fact that moisture content varies from one face of a board to another; such variance can be caused by natural and normal conditions, such as one side baking in the sun while the opposite side is shaded.
Since the variety of moisture content within the same grain plane can lead to cupping as well, stability cannot be reduced to movement ratios. Instead, it is quite difficult to measure.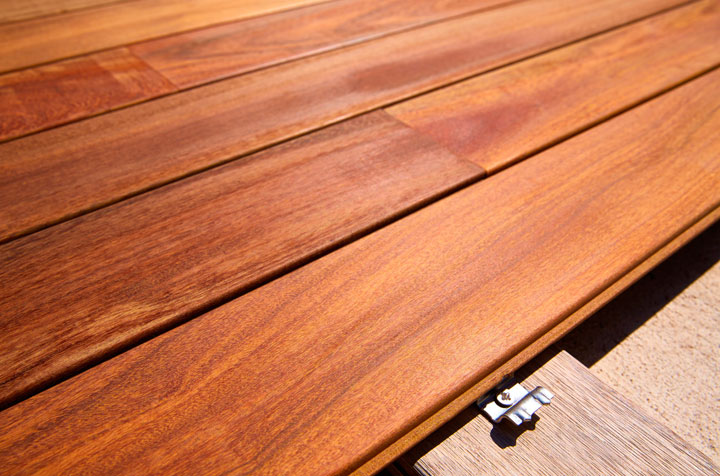 At the end of the day, both Ipe and Jatoba are extremely stable species, but Jatoba actually tends to cup less often, due to its slightly lower density and the resulting greater elasticity. While we might say Jatoba comes out the winner here, as long as the deck is installed with appropriate ventilation and spacing, you can expect either species to perform well.
Continue reading with Part 3.