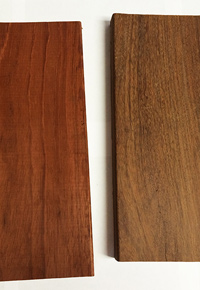 Jatoba vs Ipe: Comparing Hardness and Weight.
As unfortunate as the current shortage of Ipe may be, one of the silver linings around this dark cloud comes in the way of formerly lesser-known species getting the attention they deserve. Although Cumaru is an excellent choice, the demand for it had already eclipsed the supply before Ipe's availability began to dwindle. For those looking for a readily available, long-term solution to premium decking, Jatoba just might be the answer to your prayers. As we compare Jatoba to Ipe, we hope you'll begin to see the light — or at least understand why we believe it's the next big up-and-coming alternative to Ipe.
Let's Get Technical
I'm not going to bore you with myriad numbers that really don't matter; instead, we'll just consider the four areas significant to decking species: hardness, weight, stiffness, and stability. Even if you don't have a frame of reference for the numbering systems used, understanding how Jatoba compares with Ipe in these crucial areas will help you understand how viable this lesser-known species is as an alternative.
Hardness
The Janka hardness test measures the force necessary to embed a steel ball that's about ½-inch diameter halfway into a wood sample of any given species. While we hope your deck won't have to be tested in exactly that way, hopefully you can see how such a measurement is helpful testing a surface that will need to withstand the kind of foot traffic and other "punishment" that a typical deck has to endure. Ipe has a Janka hardness rating of 3684, while Jatoba has a rating of 2690.
If you do the math, you'll discover a difference of approximately 25%. While that may seem like a lot, you need to remember that Ipe is almost ridiculously hard, even when compared to other popular decking species. For instance, Pressure-Treated Pine has a rating of 690, and Western Red Cedar comes out even lower at 330. When you compare Jatoba to either of those, it's easily 400% to 800% harder. Since decks made from those species aren't caving under the weight of grills or canine companions anytime soon, we're pretty sure your new Jatoba deck will be more than okay, even if your dog is big and red with a name like "Clifford."
Weight
While Ipe tips the scales at 62 pounds-per-cubic-foot, Jatoba weighs in at 57. Those five pounds can really add up when you're talking about a deck made up of 1,000 square feet. The primary time the difference in weight makes an impact is during the construction process, when the wood needs to be moved to the job site. Ipe will cost you more and take more sweat equity to move. So while Ipe comes out with a higher number, once again, this time it's not a positive. Just like when playing Uno or golf, you really want the low score here. Jatoba wins out, when it comes to weight.
In Part 2, we'll compare Jatoba with Ipe when it comes to stiffness and stability. In Part 3, we'll make some general assessments based on all four areas of comparison.
Ipe Alternatives
While no wood species will have exactly the same set of characteristics that makes Ipe such an ideal wood, certain species may offer comparable strengths, making them possible Ipe-substitutes depending on your particular project and environment. Learn about each Ipe alternative below: