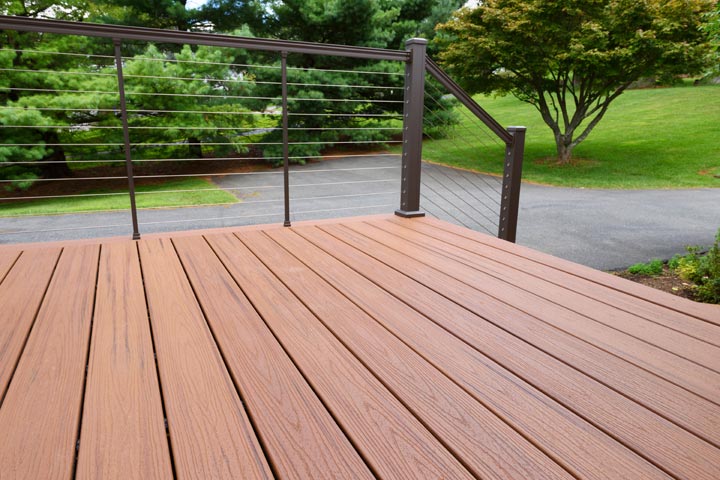 Before constructing with composite decking, weigh carefully the pros & cons.
In addition to environmental and comfort-level concerns, composite decking materials lack the resilience of tropical decking species like Cumaru and Ipe. From hardness and strength to weather and moisture resistance and movement issues, these manmade materials simply can't compare to good, old-fashioned exotic decking lumber.
Hardness
Did you know that both Ipe and Cumaru are more than ten times as hard as composite decking products? Especially for public boardwalks or restaurant decks built with weaker composite decking, this shortcoming can lead to premature destruction of the deck. Basically, when the outer core of composite decking is compromised, the much lower hardness of the inner core can lead to weak points that need to be replaced, at best, or which can even result in catastrophic cave-ins, in some situations.
Weather Resistance
Perhaps the most surprising concern over composite decking materials, these products are not as resistant to moisture and mold as exotic decking lumber products are. Real wood includes complex, water-absorbing and shedding structures that originally allowed nutrients to nourish the tree. In addition, wood contains natural resins that prevent mold and insect damage. Composite decking is made from wood flour, which eliminates the insect and mold-resistant properties of solid wood. The plastic that helps to block the inner core from harmful factors also provides an uneven surface reaction to temperature fluctuations and wear and tear. The differing reactions can cause cracking of the thin outer shell, causing it to separate from the vulnerable inner core, allowing mold and decay to run their course. Punctures and cutting during installation can expose the core, starting this degeneration.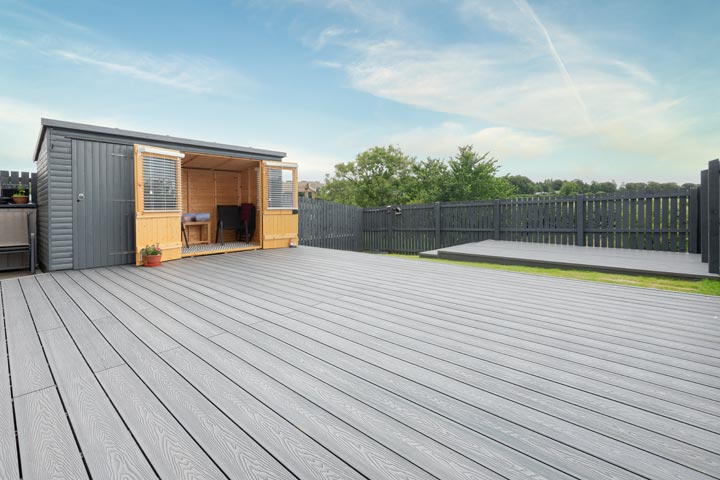 Strength
While the strength of composite decking materials certainly varies according to the manufacturer, most of these products are recommended to be installed on 12" center joists. While the 16" standard for real wood decks can be used for composite decking projects, such installation can lead to deformation. Since plastic has a memory, deformed "boards" will never spring back. The weak wood flour core relies on the outer plastic shell for stiffening, and if that thin shell is compromised, strength is further decreased. For high-traffic boardwalks or decks, bounce and deformity lead to weakness, so installation on 12" centers is certainly key; however, it comes with the additional cost of having closer joists (and having to convert from a joist system with 16″ spacing to 12″ spacing).
Movement
Of course, wood moves. But at least it moves in predictable ways. Plastic is different; it moves significantly when heated. Composite decking includes not only a plastic shell but also wood flour; this wood flour moves, but without the structure of grain patterns, the direction of movement is unrestricted. As the core moves, the plastic shell is stretched; due to its composition, it will not reform to its original position. When the wood flour core shrinks again, the separation can cause warping along the length of the boards, while the sawn ends will swell even more than the remainder of the length.
For those who don't wish to endure the kinds of problems composite decking promises, J. Gibson McIlvain keeps a large inventory of premium Cumaru and Ipe on hand, ready to ship anywhere in the US.