Did you know that once you install an Ipe deck, it's still not a finished product? Tropical hardwood decking boards — whether they're made of Ipe or another premium species — are already planed and have sharp corners eased (S4S, E4E). They may also have been milled to accommodate hidden fasteners, but they're still building materials, not finished products.
Why is this fact important to understand? It means that even though decking boards come ready for installation, they still require additional work in order to achieve the status of being a finished product. While some of this work can occur at points during the installation process, some of it will need to wait until after installation.
While this general idea is certainly true also of Pressure-treated Red Cedar or Pine, we'll focus in this article series on the unique needs of exotic hardwood decking lumber, since that's one of our primary products at J. Gibson McIlvain Lumber.
Effects of Milling and Transportation
Tropical decking boards endure quite the journey before they arrive in our lumber yard — and then on your job site. Ipe, in particular, comes from South America, where they're sawn into boards and milled into decking boards. After milling, these boards are loaded onto trucks that transport them to port cities, where they're loaded into metal shipping containers.
Keep in mind: these boards have already been milled into S4S, E4E boards, so all the mud and grime and condensation that occurs during transit won't be planed off. Instead, the accumulated results of being stacked and re-stacked means that plenty of not-so-pleasant stuff gets baked on, compacted, and even ground into the wood fibers.
While decking is air-dried to approximately 18% moisture content, it also experiences shifts in moisture levels similar to what lumber experiences in a kiln, when it's subjected to metal containers moving across the ocean. During the day, heat and evaporation take place; then, as temperatures drop during the night, condensation gives way to standing water, which evaporates the next day, leaving behind impurities and minerals that create water stains.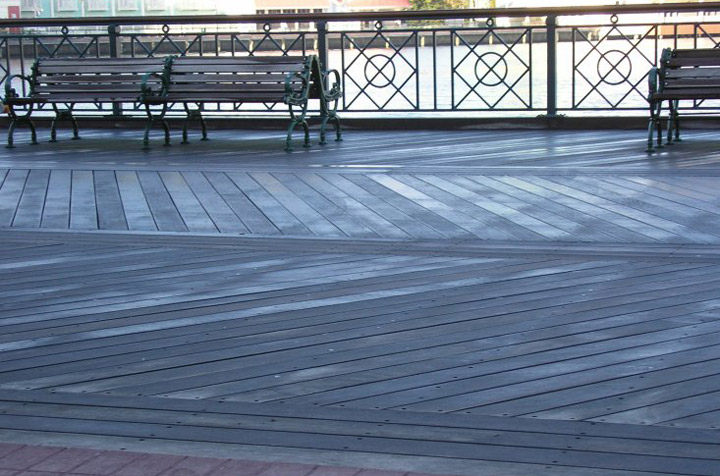 Effects of Waiting in the Lumber Yard
With all that tropical decking boards have already endured before they arrive in your lumber supplier's yard, you'd think the worst would be over. But it may not be. Your decking might sit around for months before it's pulled for your order. During that time, more dirt and grime can accumulate.
Why don't lumber yards clean the boards or sand it before they ship your boards to you? Not only would doing this add to the expense, but it would end up being wasted effort, since there's still time for even more dirt to accumulate both before and after your decking boards are shipped to you.
And that's where we'll continue to follow the journey of your decking boards, as we begin our next post.