Amid frustrations over decreasing quality of Genuine Mahogany and problems with sourcing African Mahogany, new markets for other African species such as Utile have emerged. Here at J. Gibson McIlvain, we're glad this species is finally getting the attention it deserves. Although Sapele may be a more popular choice, we actually believe Utile to be the closest match to Genuine Mahogany and highly recommend it to any of our valued customers. As you might suspect, Utile's relative anonymity means lower prices for you as a customer.
Utile's Closest Comparisons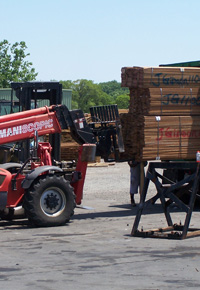 African Mahogany and Sapele are both comparable to Utile. In addition to the availability issues currently plaguing the African Mahogany market, another detractor from that species is the vast number of species actually categorized under the "African Mahogany" heading. The variation of color, density, and working qualities makes buying African Mahogany, even when it's available, pretty tricky business.
Sapele is harder than Genuine Mahogany but also denser and more stable. Like Genuine Mahogany, the Sapele tree grows to be quite large, and thus it produces many large boards in many thicknesses. Its hardness, along with its highly interlocking grain, makes it hard to work. Tear out is common, so milling Sapele requires special care.
On the positive end, Sapele's highly prized ribbon-like striping has led to an increased interest in that species in its own rite (instead of simply as an alternative to Mahogany). That new market has led to increased demand for Sapele accompanied by rising prices — which makes Utile an even more attractive solution, in our opinion.
Utile's Chief Characteristics
Also known as Sipo, Utile is in the same genus as Sapele. With similar characteristics but without as pronounced of an interlocking grain, Utile offers the possibility of easy working, without the high potential for tear out. Utile is heavier and harder than Genuine Mahogany but lighter and softer than Sapele. For furniture and millwork applications, it works similarly to Genuine Mahogany.
Quartersawn Utile offers a less pronounced version of Sapele's ribbon striping, and flatsawn Utile is nearly indistinguishable from flatsawn Genuine Mahogany. To the well-trained eye, dark medullary ray lines in flatsawn Utile can give it away, but many believe that those lines are a positive feature, adding visual interest to the board.
The large Utile tree can yield a remarkable number of wide, thick boards, and its low density makes it even more stable than Sapele. Regardless of the source of Utile, you'll find it to offer greater consistency than the many species labelled under "African Mahogany." When compared to Genuine Mahogany, it's quite a steal, and even compared to the other alternatives to Mahogany, it offers a lower price without sacrificing quality or beauty.
Be sure to check out 2 other excellent Mahogany alternatives: Plantation-Grown Fijian Mahogany and Sapele.