Genuine Mahogany and African Mahogany are becoming difficult to source these days — especially if you require lumber that's high quality, reasonably priced, and delivered on time. Partly as a result of the increasingly significant market for an alternative to Mahogany, Sapele has risen to prominence in recent years. J. Gibson McIlvain Lumber receives daily inquiries about this fabulous species, and many of them materialize into orders.
While we still think Utile may deserve greater approval, Sapele is certainly worthy of its high acclaim: It's easy to use and suitable for a variety of applications. As a long-time favorite of those who manufacture doors, windows, and siding, we predict that appreciation for Sapele will only continue to expand. So if you're not using it yet, you've probably at least been asked about it. Arm yourself with knowledge, and you'll be more prepared — and, we think, excited! — about utilizing the increasingly popular species of Sapele.
Availability and Price
Since the main issue with African Mahogany has been availability, we'll start by heralding the vast availability of Sapele. Not only does the Sapele tree grow quite large, sometimes with a diameter in excess of 6 feet, but it also grows across the continent of Africa. Its straight trunk and minimal branching below the 80-foot mark leads to an abundance of straight-grained, wide, long lumber that can be sawn from each log. Large amounts of Sapele are available at any time of year, and the high availability helps keep the cost down. In short, if you want Sapele, you can get plenty of it, any time, and at a decent price.
Stability and Quality
With a Janka rating of 1510, Sapele is nearly twice the hardness of Genuine Mahogany and significantly harder than most domestic species. Sapele's interlocking grain pattern caused by twisting fibers compensates for much potential movement that would ordinarily take place across the grain of the wood. The combination of medium density, hardness, and straight central trunk contribute to the high stability and predictability of Sapele. Especially with the long, difficult journey and climate transitions as it makes its way from the outlying areas of Africa to North American shores, this kind of stability mitigates potential damage and leads to minimal waste.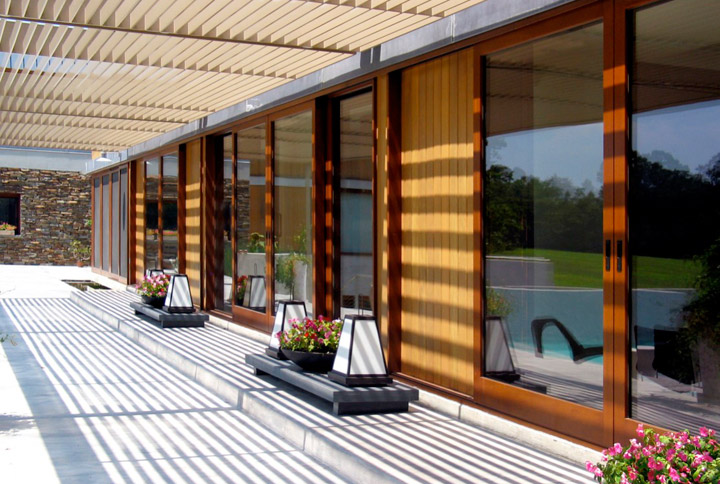 Color and Figure
Sapele is actually a species within the Mahogany genus. What's typically known as "African Mahogany" is actually a collection of several species that are part of that genus. As such, achieving consistency in density, stability, color and grain within that grouping can be especially difficult to achieve. With Sapele, however, such issues are not a problem. Like other African Mahoganies, however, Sapele is an excellent exterior grade wood with rich, reddish heartwood. Quartersawn Sapele offers the appearance of beautiful ribbon-like striping that has earned the species a market of its own, apart from simply as a Mahogany alternative.
For more about Sapele, check out Part 2.